Molecular cloning is also known as gene cloning, gene engineering, DNA cloning and recombinant DNA technique. Recombinant DNA technology emerged in the early 1970s. The purpose is to directionally join different DNA fragments according to researcher's design, and the hybrid DNAs subsequently are inserted into a specific host organism or cells for replication and expression, resulting new genetic traits influencing host cell. In molecular cloning, a vector is used as a vehicle that transports the gene of interest into a target cell for propagation or expression. The most commonly used vectors are plasmids and viruses.
The plasmid is a stable extrachromosomal genetic element. It is a small, double-stranded, closed-loop DNA molecule that exists in the supercoil configuration in the host cells. The size of the plasmid varies from 1 to over 200kb. Plasmids are most commonly present in bacteria, actinomycetes and fungal cells, and are capable of autonomous replication and transcription, yet they are largely dependent on the host cell for their reproduction, because they utilize the host cell's replication machinery. The plasmid can maintain a constant copy number in progeny cells, and express the genetic information it carried.
According to their function, plasmids can be divided into two: cloning vectors and expression vectors. An ideal cloning vector should share several properties, including: 1. Origin of replication (ori), which is indispensable for self-replication. 2. One or more selectable markers, such as antibiotic resistance genes. 3. Multiple cloning sites(MCSs), used for inserting foreign genes without affecting plasmid replication. 4. Low molecular weight, which makes them easy to manipulate. After insertion of foreign genes, the plasmids are still transfered into the recipient cells. 5. High copy numbers, High copy number plasmids are require to produce large quantities of the recombinant DNA. 6. Safety, Plasmid is safety and cannot transfer arbitrarily. The map of cloning plasmid is shown below.

Compared to the cloning plasmids, an expression plasmid contains more complex elements which is given below: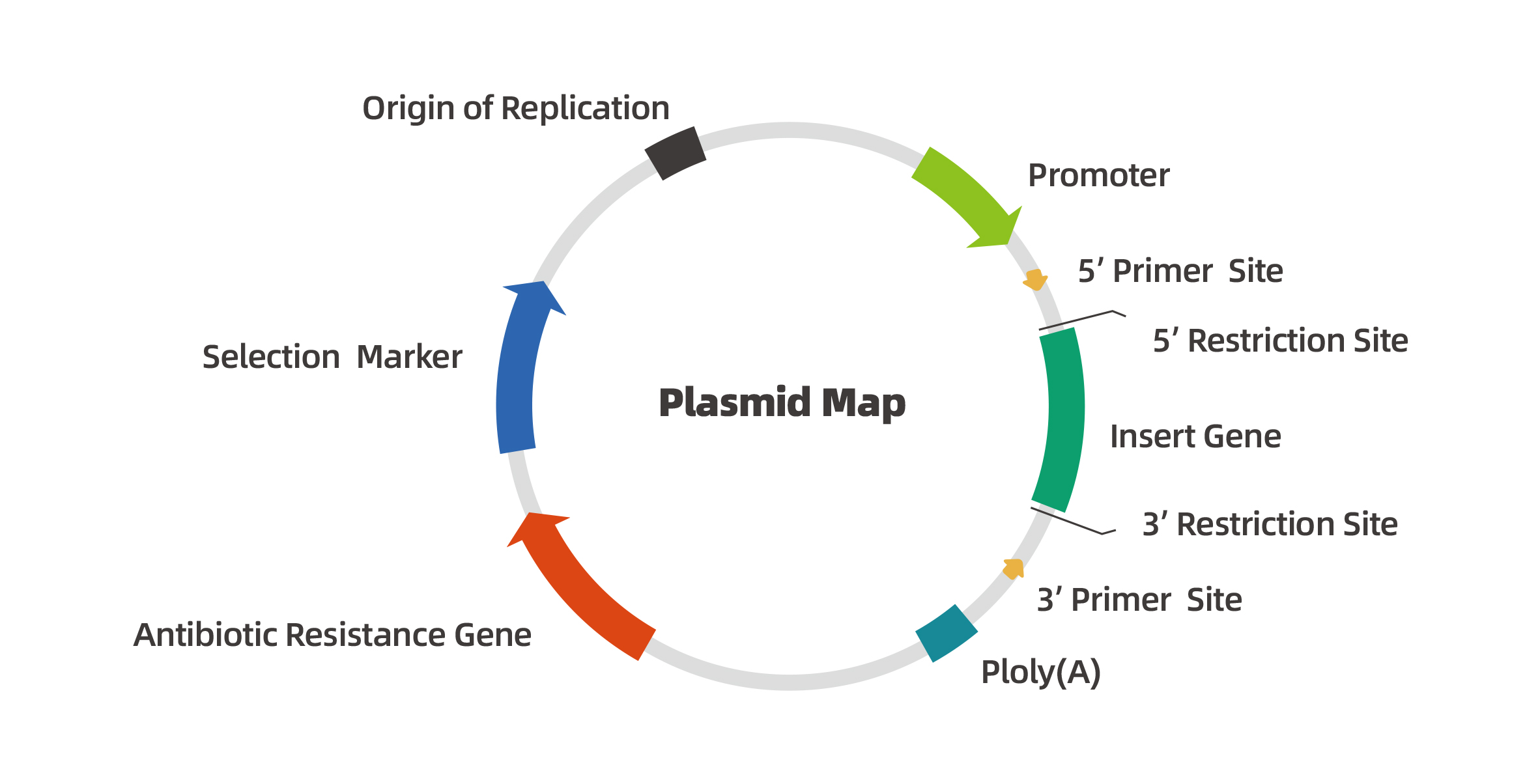 | | |
| --- | --- |
| Element | Description |
| Origin of replication (ori) | Facilitate self-replication of plasmid DNA |
| Antibiotics resistance gene | To facilitate screening of the plasmid DNA amplified in bacteria, an antibiotics resistance gene should be included in the plasmid. The commonly used antibiotics resistance genes include: Ampicillin、Kanamycin、Hygromycin B、Spectinomycin、Tetracycline and so on. |
| Multiple cloning site (MCS) | Multiple cloning site is a short DNA fragment containing multiple restriction enzyme sites, allowing for DNA insertion by restriction enzymes digestion and ligation. In expression plasmid, MCS is typically located downstream of the promoter,and the restriction enzyme sites in the MCS are unique that occurr only once in the plasmid. |
| Insert | The insert could be some gene, promoter, or other DNA fragment inserted into MCS for further research. |
| Promoter | Promoter drives transcription of inserted DNA fragment. The promoter recruits transcriptional machinery from a particular organism. Different organisms can choose specific promoters. In addition, promoters can also direct cell-specific expression, which is achieved through tissue-specific promoters. The expression level of the insert is depended on the promoter efficiency. |
| Selectable marker | Selectable markers are commonly in the form of antibiotic resistance genes that are under the control of a non-bacterial promoter or fluorescent proteins. As a selectable marker, it can be easily determined in genetic selection and screening experiments. |
| Primer Binding Site | A region of a nucleotide sequence used to confirm the sequence of the insert or other regions of the plasmid. |
For difficult-to-transfect cells, researchers often employ viral vectors to deliver genes of interest. At present, adenovirus(AdV) , lentivirus(LV) and adeno-associated virus(AAV) are widely used viral vector tools. How to choose the best viral vector that is compatible with your experimental system? The chart below shows the comparsion between AdV , LV and AAV:
| | | | |
| --- | --- | --- | --- |
| Characterisitc | Adenovirus | Adeno-Associated Virus | Lentivirus |
| Genome | dsDNA | ssDNA | ssRNA |
| Envelope protein | No | No | Yes |
| Genome size | 38-39kb | 5kb | 9kb |
| Packaging Capacity | 7.5kb | 4.5kb | 6kb |
| Infection | Dividing and non-dividing cells | Dividing and non-dividing cells | Dividing and non-dividing cells |
| Integration | Non-integrating | Non-integrating | Integrating |
| Expression level | High | High | Moderate or High |
| Expression time | Fast(1-2 day) | 1-2 week (in vivo) | Slow(2-4 day) |
| Expression system | Transient | Transient or stable | Stable |
| Immunogenicity | High | Very low | Low |
| Titering | 10E10pfu/mL | 10E13VG/mL | 10E8TU/mL |
| Biosafety level | BSL-2 | BSL-1 | BSL-2 |
Plasmids have become a basic tool in molecular biology due to their simple operation, easy preparation, stable performance and a wide range of applications. Therefore, molecular cloning technology has become an essential laboratory skill for every researcher. Although it is simple, it is fairly laborious. WZ Biosciences is your best choice, with the following features:
| | |
| --- | --- |
| 1. | Quick delivery: All our destination vectors are compatible with our Entry & MIR clones MCS–choose from 18,000 ORF clones & 1300 miRNA clones. |
| 2. | Excellent service: WZ Biosciences' highly experinced scientists are ready to design your cloning project and generate your desired constructs. Just send your sequence or clone, we will do the work for you. |
| 3. | A wide range of applications: No matter what your sequence is (protein-coding genes, lncRNAs, microRNAs, circRNA, promoters, or other regulatory sequences), WZ Biosciences can make a ready-to-use clone for you. |
| 4. | Various services: WZ Biosciences provides a full suit of services, including plasmid construction, virus packaging and gene expression validation, to meet your different experimental needs. |
| 5. | Inducible gene expression systems:WZ Biosciences' tetracycline-inducible system and Cre on & Flp on vectors can used to achieve temporal and spatial control of your target gene expression. |
The basic molecular cloning usually includes the steps of gene synthesis, restriction digestion, ligation, transformation, clonal selection and verification. The following is an example from ORF AAV plasmid construction to virus packaging. The service flow diagram is as follows:
Step 1:Choose a Right Vector
When choosing a vector, many factors are usually considered by researchers, such as cell type, gene length, and gene characteristic. WZ Biosciences provides the complete gene vectors (viral and non-viral vectors). In addition, you can also send us your own vectors. For some difficult-to-transfect cells, viral vectors are usually the first choice, because they are more efficient than plasmid vectors. Each viral vector system has its merits.
Step 2:Select a Right Promoter
The packaging capacity of viral vectors is a key consideration when choosing a vector. Since they have limited packaging capacity, the success of gene expression is highly dependent on the best suitable promoter choice. The following table lists our tissue-specific promoters. If you do not find the promoter you want to use, you can contact us.
Tissue

Promoter Name

Size

Description

Aplication

CNS

hSyn

471bp

Human synapsin I promoter

Specific in neuron

CamKIIa

1.2kb

Mouse α-calcium-calmodulin dependent kinase II promoter

Specific in excitatory neurons in the neocortex and hippocampus

c-fos

1.7kb

mouse c-fos gene promoter

Specific in excitatory neurons

Mecp2

230bp

mouse methyl CpG binding protein 2 promoter

Specific in neuron, short

NSE

1.3kb

Mouse enolase promoter

Specific in neuron

Somatostat(SST)

1.2kb

Human somatostatin I gene

Specific in GABAergic Inhibitory neuron subtype (SST)

TH

2.5kb

Rat tyrosine hydroxylase gene promoter

Specific in dopaminergic neurons

GFAP

2.0kb

Human glial fibrillary acidic protein promoter

Specific in astrocyte

GFAP104

845bp

Human glial fibrillary acidic protein promoter

Specific in astrocyte

GfaABC1D(truncated GFAP)

681bp

Human glial fibrillary acidic protein promoter

Specific in astrocyte

ALDH1L1

1.3kb

Human aldehyde dehydrogenase 1 family member L1 promoter

Specific in astrocyte in thalamus

MBP

1.3kb

Human myelin basic protein promoter

Specific in oligodendrocyte

Liver

ALB

2.4kb

Mouse albumin promoter

Specific in liver

TBG

460bp

Human thyroxine binding globulin promoter

Specific in liver

ApoEHCR-hAAT

1.3kb

Chimeric promoter of the hepatocyte control region (HCR) from the APOE gene and the human α1-antitrypsin promoter (hAAT)

Specific in liver

Heart

aMHC

0.4kb

Mouse myosin heavy chain alpha promoter

Specific in cardiomyocyte

cTNT+intron

0.7kb

Chicken cardiac troponin T promoter

Specific in cardiomyocyte

Eye

Rep65

0.7kb

Mouse retinal pigment epithelium 65 promoter

Specific in retinal pigment epithelium(RPE)

VMD2 promoter

0.65bp

Human vitelliform macular dystrophy-2 promoter

Specific in retinal pigment epithelium(RPE)

Pancreas

Insulin

0.85kb

mouse insulin promoter

Specific in pancreatic β cells

PDX1

2.7kb

Mouse pancreatic and duodenal homeobox 1 promoter

Specific in pancreatic β cells

Blood vessel

SM22a

0.45kb

Mouse SM22 alpha promoter

Specific in vascular smooth muscle cell

ICAM2

0.15kb

Human Intercellular Adhesion Molecule 2 promoter

Specific in endothelial cell

CD68

0.7kb

human CD68 promoter

Specific in monocytes and macrophages

F4/80

1.2kb

mouse F4/80 gene promoter

Specific in macrophages

Muscle

MCK

1.3kb

mouse muscle creatine kinase gene promoter

Specific in muscle

3×enhancer McK

728bp

modified mouse muscle creatine kinase gene promoter

Specific in muscle

Kidney

NPHS1

1.2kb

mouse Nephrin gene promoter

Specific in kidney
Step 3:Insert an ORF
WZ Biosciences has a collection of over 18,000 Human ORF Clones , which can be shuttled into our destination viral vectors by simple "cut and paste". We can make you desired construct according to your needs. You can choose from our human ORF Clones or just give us the sequence. If you choose our premade clones, please let us know the Cat No., Gene Name and RefSeq No. when you request a quote. In addition, we also provide molecular cloning and site-directed mutagenesis services.
Step 4:Chose a Right Tag
WZ Biosciences offers a complete of gene expression vectors containing different tags, reporters and expression formats. You can customize your desired vectors during AAV cloning, adenovirus cloning, or lentivirus cloning.
Step 5:Package into Viral Particles
If you choose a viral vector and there is a need for viral packaging in the future, then we can directly package the constructed custom vector into viral particles viral particles. Please visit the virus packaging page to learn more about lentivirus, adenovirus and adeno-associated virus packaging.
| | | |
| --- | --- | --- |
| | 《Transfection Reagent Instructions》 | |
1. If the customer don't know restriction sites at both ends of the insert sequence and plasmid map, but can provide the sequence and sequencing primer, can we undertake this project?
A: Yes, but we need to sequence to verify the sequence near the restriction site before cloning.
2. Can we provide glycerol bacteria as subcloning template?
A: Not recommended, because glycerol bacteria is not as stable as plasmid, but if glycerol bacteria is the only option, we can also try to do it.
3. The template was previously constructed by WZ Biosciences. Do you still have this plasmid, or do you need us to send it again?
A: We usually keep the constructed plasmid for 1 year. If the previous order has been completed for more than 1 year, but not more than 5 years, we may still have this plasmid, but we need to check with our production team.
4. We have primers, do we need to provide them or do you design and synthesize them yourself?
A: We will design and synthesize primers for cloning by ourselves. You only need to send us cloning template and let us know your desired gene sequence.
5. I have a complicated cloning scheme. Do I still need to design?
A: You just need to provide us template sequence, template plasmid and final sequence, our production team will design the best cloning scheme for you.
| | | |
| --- | --- | --- |
| 1. | Cell Death Dis. (IF=6.304). Ma, et al. (2020). circ5615 functions as a ceRNA to promote colorectal cancer progression by upregulating TNKS. | |
| 2. | Toxicol. Appl. Pharmacol. (IF=3.347). Ge & Tu, et al. (2020). MiR-122-5p increases radiosensitivity and aggravates radiation-induced rectal injury through CCAR1. | |
| 3. | Cell Death Dis. (IF=6.304). Zhang, et al. (2019). circHIPK3 regulates lung fibroblast-to-myofibroblast transition by functioning as a competing endogenous RNA. | |
| 4. | Int J Med Sci. (IF=2.523). Wang, et al. (2019). LncRNA SNHG6 promotes proliferation, invasion and migration in colorectal cancer cells by activating TGF-β/Smad signaling pathway via targeting UPF1 and inducing EMT via regulation of ZEB1. | |
| 5. | EBioMedicine. (IF=5.736). Jiang, et al. (2019). Overexpression of PIMREG promotes breast cancer aggressiveness via constitutive activation of NF-κB signaling. | |